I made some great food yesterday...
BREAKFAST:
For breakfast I made a Tofu Scramble... Tofu is the best food discovery ever...I love this stuff. I honestly will never go back to a regular egg omelette this to be just taste better.
When it comes to a good tofu scramble, because of the how versatile Tofu is there is no rules.As if making a regular omelette you can add anything, you want. When tossing crumbled soybean curd with plain vegetables bores you, experiment with other ingredients.
Always sauté vegetables before mixing with tofu to avoid extra water getting in the mix.
Best tip: Dry tofu out well before making by taking the cubes or the smashed crumbles and placing them on layers of paper towels or a dishtowel on a cutting board or plate.
Then, place more paper towels or another dishtowel on top of it and let it absorb the moisture and dry for several hours.
You can even freeze tofu, and then thaw for an extra crispy scramble!
Tofu Scramble
Yield: 1 serving with a small amount of leftovers
Ingredients:
1/2 tsp cumin
1 pinch ground turmeric
1 pinch ground curry powder
1/4 tsp sea salt
cooking spray or olive oil
1/2 tsp minced garlic
1/2 cup finely chopped onions
1/4 cup diced yellow bell pepper
4 oz firm or extra firm tofu, pressed or drained (I used a local herbed variety)
2 shiitake mushrooms, sliced thinly
2-3 Tbsp water, if needed
1 cup kale or other greens (I used garlicky kale)
1 Tbsp nutritional yeast
1 Tbsp chopped parsley
sea salt, ground pepper, to taste
hot sauce, to taste (optional)
Instructions:
1. Combine spices and salt in a prep bowl and set aside.
2. Spray a medium-sized skillet with cooking spray or olive oil and add onion, garlic and bell peppers. Stir with a spatula and cook for about 3-4 minutes or until onions and bell peppers begin to soften.
3. Add mushrooms and tofu. Use your fingers to crumble the tofu into chunks before tossing it into the pan.
4. Cook for 10 minutes, stirring occasionally. If the tofu starts to stick, use a little water to loosen up any browned bits.
5. Add the reserved spice blend and stir to combine. Add the kale and nutritional yeast. Stir and cook for about 3-4 minutes. Then stir in the parsley and season to taste with black pepper and sea salt. Serve the scramble warm.
I ate my scramble up with a couple sprinkles of jalapeno Tabasco, a couple small slices of avocado, and brown rice.
LUNCH:
For lunch we ate Vegan Tomato Bisque with a vegan pepper jack cheese grilled sandwich. I friggin love grilled cheese sandwiches that was the one thing I thought I'd never eat again once I went vegan...but with some vegan cheese hunting I found the right vegan cheese for me to make my grilled cheese sandwiches.
Tomato Bisque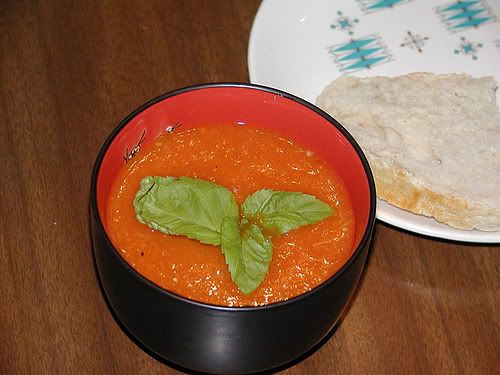 Ingredients:
2 Tbs. earth balance soy margarine
3 leeks, sliced (white parts only)
1 medium onion, chopped
2 stalks celery, diced
2 medium carrots, diced
2 cloves garlic, minced
1 bay leaf
3/4 t. dry thyme (1 Tbs. fresh)
1 can diced tomatoes (15 oz.)
1 can tomato puree (15 oz.)
1 cup tomato juice
4 Tb s. tomato paste
1 veg. bullion cube dissolved in 1 cup boiling water
juice of 1/2 lime
1 Tbs. sugar
1 1/2 t. salt
black pepper
1 pint plain soy creamer*
garlic croutons (optional, for garnish)
Makes, uh, a lot of soup. I'd guess 4-6 large servings. Great thing is you can freeze the left overs.
Instructions:
1. Heat margarine over medium high heat in large saucepan.
2. Add leeks, onion, celery, and carrots. Sauté 8-10 minutes, stirring often, until onions are translucent and carrots are soft.
3. Add garlic, bay leaf, sugar, salt, black pepper and thyme. If using dry thyme, crush it between your fingers a bit. Sauté for one or two more minutes.
4. Add diced tomatoes, tomato puree, tomato juice, tomato paste, and bullion water. Lower heat and simmer for 10 minutes, until soup begins to boil. Add lime juice and adjust salt and pepper, if necessary.
5. Purée soup in batches in a blender. Do not blend too much—you want the soup to have a little bit of "bite" to it.
6. Blend for about 20 seconds.
7. Return soup to saucepan.
8. Mix in soy creamer. Reheat soup for a couple minutes over low heat, stirring often. Do not let the soup come to a boil.
9. Sprinkle in croutons, or eat with some good sourdough bread!
Vegan Grilled Cheese sandwich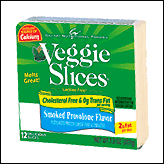 This is the only cheese I use. I mean seriously Galaxy Nutritional foods in my opinion is the best tasting vegan cheese. They have Rice slices and Veggie Slices I use Veggie slices they even make crumbles and shredded versions which I use for pizzas.
Ingredients:
2 slices brown bread
2 slices vegan cheese of choice (American style or Pepperjack style is best)
1 Tbsp. vegan margarine (Earth Balance spread is especially delicious!)
Instructions:
1. Place a skillet on medium-high heat.
2. Melt 1/2 Tbsp. margarine on hot skillet and place both slices of bread on skillet.
3. Allow undersides of bread to get nicely grilled and flip.
4. Place cheese on one of the bread slices and close the sandwich.
5. Use the other 1/2 Tbsp. margarine to cook up both sides of the sandwich. Enjoy!
Number of Servings: 1
DINNER:
I saw this on the net on March 11 for NYC Koi's Steamed Chilean Sea Bass recipe. I thought this would be awesome to make. Just substituted a few ingredients that are available here in Hawaii and I have to say it turned out way better than I thought it would.
NYC Koi's Steamed Chilean Sea Bass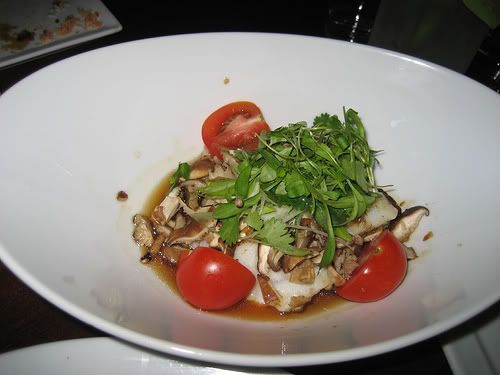 Ingredients:
6-7oz Chilean Sea Bass (FYI: I use cheapest Sea Bass that's available.)
4-5 pieces Julienne Ginger (matchstick size) (FYI: I use Ginger that is available.)
1/2 cup thinly sliced Shiitake Mushrooms
5 Cilantro Leaves
1/2 Scallion thinly cut on the bias
2 Cherry Tomatoes cut in half
1-2 tbsp Soy Sauce
1 tsp Sesame Chili Oil (if can't be found, Sesame Oil will work)
Garnish with Coriander Sprouts or 2-3 Cilantro Leaves
Instructions:
1. Place Sea Bass, in casserole dish small enough to fit inside steamer basket, and top with ginger and shiitake mushrooms. Place inside steamer basket over simmering water and cover. Let steam for 15-20 minutes or until fish is cooked.
2. Meanwhile heat sesame oil until it begins to smoke. Turn off heat and place to the side (to be used at end).
3. Remove casserole dish from steamer and place Sea Bass and mushrooms, saving the cooking juices that developed, in serving bowl.
4. Pour the cooking liquid on top.
5. Place the cherry tomatoes around the sea bass and add soy sauce. Top sea bass with cilantro, scallions and drizzle hot sesame oil on top of the greens releasing their aromatics and oils.
6. Garnish with coriander sprouts.
DESSERT:
My Mom wanted something sweet to finish off the day. She wanted an ice-cold treat so I made her a vegan Avocado Frozen Yogurt. This seems weird but it is so good. In addition, with this basic recipe you can make all types of frozen yogurt flavours.
Avocado Frozen Yogurt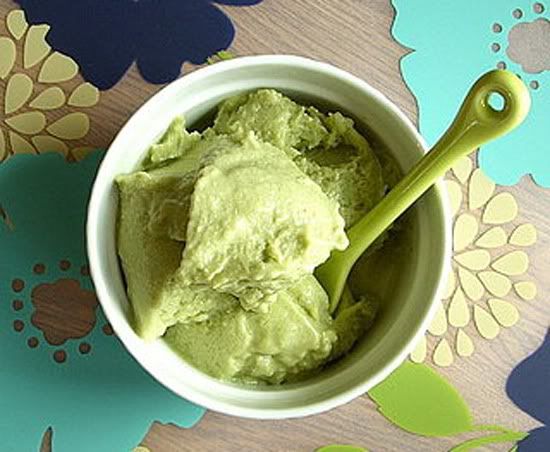 Ingredients
Serves 2-3
1 1/2 ripe avocados
2 tablespoons lemon juice
3 tablespoons stevia (or to taste)
2- 4 oz containers soy yogurt (Silk or Wholesoy peach or strawberry flavours)
1/2 cup soy/almond milk
1 tablespoon lemon zest
1 teaspoon vanilla extract
Directions
Set aside the lemon zest, and place the rest of the ingredients in a food processor or blender, and blend until smooth. Transfer to a a bowl or ice cream maker and stir in the lemon zest. If not using an ice cream maker, freeze in an airtight container for at least 2 hours. When ready to use, let it thaw slightly, giving it another stir.
or if you wish not use premade frozen yogurt you can make your own vanilla yogurt than just add the avocado yogurt ingridents...
This recipe is a healthy alternative to ice cream or frozen yogurts prepared with dairy products, and it's so easy to make! Prepared without any animal byproducts, this dessert recipe is great for vegans, too!
For this recipe, I prefer using agave nectar, which is a liquid syrup similar to honey but that is lower on the glycemic index. If agave nectar is not available, feel free to substitute honey, maple syrup or another liquid sweetener of your choice.
VANILLA FROZEN YOGURT
Serves 4-6
Prep Time: 10 minutes
Total Time: 10 minutesIngredients:
•6 cups plain, unsweetened soy yogurt
•2/3 cup agave nectar (see head note)
•¼ cup finely ground cashews
•½ t. vanilla extract
•¼ t. xanthan gum
Preparation:
1. Combine soy yogurt, agave nectar, ground cashews and vanilla extract in a blender and process until well combined. Add the xanthan gum and process for about 30 seconds to 1 minute more until smooth. Pour into a shallow metal pan and place in the freezer for 1 hour.
2. Remove the pan from the freezer and return the slightly-frozen mixture into the blender. Process until smooth, pour the mixture back into the pan, and place the pan back into the freezer for 1 hour longer. Repeat.
3. After the last blending (the mixture should be blended a total of 3 times), replace the pan into the freezer for 30 minutes to 1 hour before enjoying. Store covered in an airtight container in the freezer.